Countdown to next 80s Brigade show:
Days

Hours

Minutes

Seconds
The 80s Brigade bring an incredible show filled with your favorite rock and dance hits from your favorite decadent decade with a few surprises as well. All performed with AMAZING musicianship and high energy that will pack the house and provide an unforgettable experience.




The band has performed all over Southern California and has earned a reputation for leaving everyone WANTING MORE! The sound, the lights, the songs, the musicianship all add up to a GREAT TIME for all! So come see what everyone is talking about and come join the legion of BRIGADE fans!!!!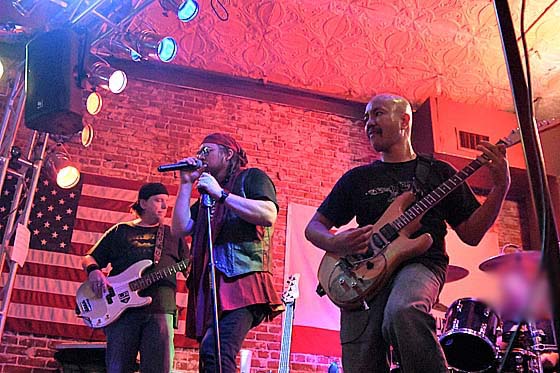 ---
August 7, 2022

HELLO FRIENDS!!! We hope you are doing amazing and well wishes to your family and friends. After some Covid intervention, and other life interventions, the band has been back hard at work working on a fantastic new set of songs to play for you. We appreciate everyone who wished us well during this downtime but we are SO ready to get back out there and see all of you singing along with us. We have upcoming shows on the calendar with more to come. First up is a return to Lake Alice in Riverside on August 27. The following week marks a return to Menifee at the Pitstop Pub on September 2 followed by the Arlington Chili Cook-Off and Car Show the next day in Riverside. We plan to play various sets at each of these appearances so come to as many as you are able and show your support. We CANNOT WAIT to see all of you! Long live the Brigade!!!

John, Raoul, TJ, and Tim!
May 1, 2022

We had a blast tonight!! Massive thanks to everyone that hung out, danced, and sang with us! Whiskey Barrel is a killer spot to play, and the whole staff and security are top notch! Hopefully we'll be back up there soon! We missed the High Desert more than we realized! See you soon!

On a fun note, we treated our High Desert friends to a special rock version of a country classic. Check out a view of TJ serving it up.

John, Raoul, TJ, and Tim!
---
March 30, 2022

How about an update? First of all, we are SO excited to come to Hesperia next month. For all our High Desert friends, we CANNOT WAIT to finally play in your area after SO long. It has been WAY too long and we are ready to rock! Secondly, we are also so excited to announce our return to Temecula this summer. June 26th we return to Temecula Wine and Beer Garden after more than three years! We have many old and new friends around there and we have missed you all. Both of these shows will be SO MUCH FUN!! Our goal was to only bring back 80s Brigade unless it would be BETTER THAN EVER! This is the year! We have been working incredibly hard the last few months to raise the bar for ourselves and for YOU!! So be sure to come out and GET THIS PARTY STARTED!!

John, Raoul, TJ, and Tim!
---
March 7, 2022

Great news, Brigade fans! The band is finally making a return to the high desert. So many of you have made the drive south to support the band. It's time we CAME TO YOU! We have confirmed a date in April to bring the rock to the Whiskey Barrel in Hesperia. This is going to be a special night so come ready to PARTY and we'll bring the ROCK! Tell all your friends and we'll see you there on April 30th.

John, Raoul, TJ, and Tim!
---
February 13, 2022

Well, after nearly THREE YEARS the 80s Brigade band finally returned to Lake Alice in Riverside last Friday night. We want to thank every single one of you who came to rock out with us and celebrate the return of the band to one of our favorite places to play. We had so much fun! It was incredible to see such a positive response. We are working on booking many more shows to keep this going. More details to come very soon. Until then, much thanks from Tim, John, Raoul, and TJ. See you VERY soon!

See ya soon!

John, Raoul, TJ, and Tim!
---
CLICK HERE FOR NEWS ARCHIVE
---

Be sure to LIKE our FACEBOOK site. Join with the Brigade and celebrate ROCK!!!


If you want to be notified of any updates to the show schedule, send an email to
INFO@80SBRIGADE.COM

Download the band's EPK for booking info.





Are you ready to test your knowledge?!



---