June 5, 2023

Massive thanks to The Cove Bar & Grill for having us last night! 80s themed, 50th birthday party with everyone dressed in wigs, rocker outfits, and even a Wayne's World skit. Singing, dancing…a total blast had by all, especially us! Perfect Storm for what we do! We look forward to returning there again soon. Next up, we return to Lake Elsinore to one of our favorite hangouts, O'Hara's. Hopefully everyone can make it this Saturday night. The band is ready to rock the house! See you there!
Cheers!

John, Raoul, Tj, and Tim
May 1, 2023

We had a blast rocking Lake Alice last Saturday night! Thanks to everyone who came out to hang with us and make it a special evening. Over the next several weeks, we will be making stops in Temecula and Lake Elsinore so mark your calendars. The guys are sounding better than ever and having so much fun. We hope to see you out there. Are you ready to ROCK?!!
Cheers!

John, Raoul, Tj, and Tim
January 30, 2023

How is 2023 going for everyone so far? The band had a great night playing in Menifee recently and are working on adding more dates there in 2023. Thanks to everyone who showed up to support the band. This weekend we are back in Temecula to rock the place 80s Brigade style! The music starts at 3pm so get there early and let's get the party started!!!
Cheers!

John, Raoul, Tj, and Tim
November 10, 2022

We are looking forward to returning to Lake Elsinore this Saturday night. It's been awhile since we last played at O'Hara's. It should be a lot of fun so we hope to see you there to sing along with us. Recently we've had people asking if we ever play private parties. The short answer is yes we do so let us know if you have an event in mind. New shows are starting to be confirmed for 2023 so, as always, keep an eye on our schedule for a show near you. Also, let us know if you would like to be emailed when new shows are posted and we'll do our best to make that happen. We'll see you out there!
Cheers!

John, Raoul, Tj, and Tim
September 10, 2022

Last weekend was crazy! First, we made our return to Menifee and rocked the PitStop Pub. Thanks to everyone who came out and supported the band. It was a blast from beginning to end. Can't wait to play there again. The next day the band braved the hot weather for an outdoor event in Riverside. Our thanks to the event's organizers for having us. We hope to work with them again soon. We'll be announcing more shows in the next several days so check back here or on our Facebook page. We'll see you soon! Cheers!

John, Raoul, Tj, and Tim
August 28, 2022

Massive thanks to all who came out to Lake Alice last night! We had a blast, and even though the A/C wasn't working, we still had a ton of fun! You guys never disappoint with the dancing and singing along. We love you all and appreciate the support! Cheers!

John, Raoul, Tj, and Tim
August 7, 2022

HELLO FRIENDS!!! We hope you are doing amazing and well wishes to your family and friends. After some Covid intervention, and other life interventions, the band has been back hard at work working on a fantastic new set of songs to play for you. We appreciate everyone who wished us well during this downtime but we are SO ready to get back out there and see all of you singing along with us. We have upcoming shows on the calendar with more to come. First up is a return to Lake Alice in Riverside on August 27. The following week marks a return to Menifee at the Pitstop Pub on September 2 followed by the Arlington Chili Cook-Off and Car Show the next day in Riverside. We plan to play various sets at each of these appearances so come to as many as you are able and show your support. We CANNOT WAIT to see all of you! Long live the Brigade!!!

John, Raoul, TJ, and Tim!
May 1, 2022

We had a blast tonight!! Massive thanks to everyone that hung out, danced, and sang with us! Whiskey Barrel is a killer spot to play, and the whole staff and security are top notch! Hopefully we'll be back up there soon! We missed the High Desert more than we realized! See you soon!

On a fun note, we treated our High Desert friends to a special rock version of a country classic. Check out a view of TJ serving it up.

John, Raoul, TJ, and Tim!
---
March 30, 2022

How about an update? First of all, we are SO excited to come to Hesperia next month. For all our High Desert friends, we CANNOT WAIT to finally play in your area after SO long. It has been WAY too long and we are ready to rock! Secondly, we are also so excited to announce our return to Temecula this summer. June 26th we return to Temecula Wine and Beer Garden after more than three years! We have many old and new friends around there and we have missed you all. Both of these shows will be SO MUCH FUN!! Our goal was to only bring back 80s Brigade unless it would be BETTER THAN EVER! This is the year! We have been working incredibly hard the last few months to raise the bar for ourselves and for YOU!! So be sure to come out and GET THIS PARTY STARTED!!

John, Raoul, TJ, and Tim!
---
March 7, 2022

Great news, Brigade fans! The band is finally making a return to the high desert. So many of you have made the drive south to support the band. It's time we CAME TO YOU! We have confirmed a date in April to bring the rock to the Whiskey Barrel in Hesperia. This is going to be a special night so come ready to PARTY and we'll bring the ROCK! Tell all your friends and we'll see you there on April 30th.

John, Raoul, TJ, and Tim!
---
February 13, 2022

Well, after nearly THREE YEARS the 80s Brigade band finally returned to Lake Alice in Riverside last Friday night. We want to thank every single one of you who came to rock out with us and celebrate the return of the band to one of our favorite places to play. We had so much fun! It was incredible to see such a positive response. We are working on booking many more shows to keep this going. More details to come very soon. Until then, much thanks from Tim, John, Raoul, and TJ. See you VERY soon!

See ya soon!

John, Raoul, TJ, and Tim!
November 8, 2021

Thank you to all who came out last night and supported our return! We've played O'Hara's many times, but it has never been as packed for us as it was last night. Between everyone singing along with us, dancing, and overall rad crowd...we couldn't have asked for more!! 2022 will be a fun year for us, so stay tuned for more gigs...

See ya soon!

John, Raoul, TJ, and Tim!
October 11, 2021

ARE YOU READY TO ROCK?!! The Brigade is set to kick off their return to the stage at our old friend Rex's place, O'Hara's in Lake Elsinore. It will be a night to remember for sure. The music starts at 9pm so make plans to join us in celebrating this long awaited event. A day that some thought might never come but it's finally happening. After years of hearing "Whatever happened to the 80s Brigade?", they are finally answering the call and bringing the sound you've been missing. So on Friday November, 5th, get ready SoCal. IT'S TIME.... NOW LET'S PARTY!!!
---
September 13, 2021

In the words of the Thin Lizzy classic, "THE BOYS ARE BACK IN TOWN!!". After a LONG hiatus, the group has reconvened to bring their incredible brand of rock entertainment back to the stage. Please give a warm hello to the newest member of the Brigade, Tim (TJ) Palmatier. His drumming skills bring a new energy to the band and we can't wait for everyone to come watch him perform. The band is currently in intense rehearsals to prepare a new show for everyone that's filled with classics and some surprises. Make sure to check back here soon for more information. Spread the word. WE'RE BACK!!!
---
March 25, 2019
HELLO EVERYONE!! Did you miss us? After taking some time for injuries, illnesses, vacations, helping old folks cross streets, tantrums, staring at the sun too long, getting lost because GPS can be your enemy, and paying too much for sunglasses..... WE ARE BACK!! The band has returned to first class 80s style rocking in the last couple of weeks. The calendar is starting to fill up quickly so make some plans to come join the guys as they take the fun to a new level in 2019. ARE YOU READY? This Friday the band will be in Upland at Rescue Brewing and then on Sunday they head over to Hell's Kitchen for some mid-day rocking. Come out and join the party. We'll see you out there.

December 9, 2018
It's the holiday season and the guys are out there rocking with the holiday spirit. Last weekend the band played the Chino Hills outdoor mall known as the Shoppes. As shoppers enjoyed the snow, fountains and great food, the guys rocked them 80s style and gave away SO many gifts to the kids that danced and enjoyed themselves. What a night to remember for them and ESPECIALLY for the band. The holidays seem to bring out everyone's inner child and it was a blast to entertain everyone there. Next week the band returns to Menifee and rocks the Pitstop Pub. Great place and great staff. Get there if you can! Fun times for sure!

November 1, 2018
The guys are having so much fun lately. The crowds have been incredible and the feedback we are receiving is SO POSITIVE. Thank you everyone. From the SoCal Fair, to sharing the stage with Graham Bonnet, to helping celebrate the life of a friend recently lost to us, October 2018 was a month to remember. The band returns to Rancho Cucamonga on November 3rd at Tilted Kilt and then to Redlands on November 17 at Taylor's. Both shows will be ones you don't want to miss so make sure you're planning to BE THERE! More shows will be added to the schedule very soon so keep checking back or follow the band on Facebook. See ya out there!!


September 27, 2018
September has been great for the band in 2018. Thornton Winery (great stage), The Shoppes in Chino Hills, Lake Alice, the welcoming return to Temecula, and don't forget O'Hara's for Rex's birthday... just AMAZING FUN! A special shout-out to Rex for letting us know that he booked the 80s Brigade in particular for his birthday bash. A great guy and we were happy to be there. So many comments about how the band is sounding better than ever. We could not appreciate everyone's enthusiasm more. October is going to be even better by the looks of it. The schedule has been updated with some new dates. We are particularly excited to be invited to perform at the Southern California Fair at the Perris Fairgrounds on October 6. The band starts at 1:30pm on the Fiesta Stage so make plans to be there. First up though, this weekend the band returns to Lake Alice on Friday night and then Saturday visits Fullerton for the first time at The Bench. So come on out and BE READY for great tunes and wild fun. See you there!!!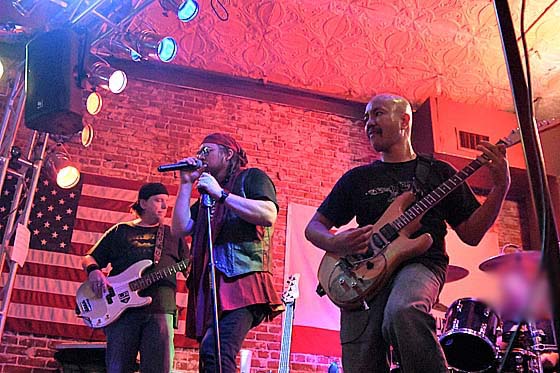 ---
---
November 16, 2015

A special thanks to the staff at Laidlaw's Harley-Davidson in Baldwin Park. The band were treated extraordinarily well and had a great time performing.



This Friday the guys will perform at a very special private event that we are very much looking forward to. THEN... SUNDAY.... the Brigade ventures to San Bernardino to headline a special party open to the public at Brew Rebellion!! BE THERE!! New dates are being added to the schedule all the time so check back often and let us know when you're coming and what you want to hear. See ya!!

---
November 9, 2015

Just another crazy weekend for the 80s Brigade. Things got a little TOO crazy at the Hi Brow with John taking a tumble while racing across the stage. What a sight! Judges rated his fall as an 8.7. LOL. Thankfully he survived and continued to put on an amazing show. Thanks to all of our amazing fans and friends who came out to witness a great performance by the band; including an amazing virtuosic solo by Tony.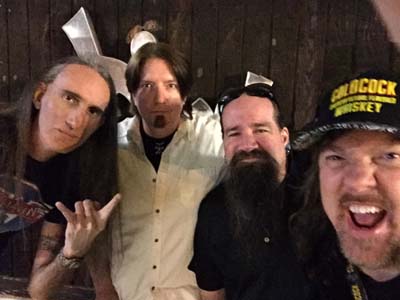 On Saturday the band traveled to Crestline and braved 30 degree weather to bring the heat to the Bear House. Great place! Thanks to the dedicated friends and fans who made the trek as well. Your support means everything. The band definitely plans to return to Crestline; perhaps when the weather warms up a bit. LOL. Next Saturday the band heads to Baldwin Park to perform at Laidlaw's Harley-Davidson. You do NOT want to miss this. In the meanwhile, enjoy a clip of Tony tearing it up from last weekend.

Bring on the BRIGADE!!!

---
November 2, 2015

So calling all fans of the 80s Brigade!!!! It's time to let everyone know who is your favorite band in the IE!! You can vote for the 80s Brigade HERE as your favorite local band!!! Spread the word about your favorite band in the IE; THE 80S BRIGADE!!!
---
October 26, 2015

This past Saturday the 80s Brigade played a private Halloween party and it was more fun than humans should be allowed to have. The costumes, the fantastic outdoor stage, the amazing crowd, the COLDCOCK; it was all happening!!!


The band debuted several of the newly added songs and they sounded awesome! Some highlights included Once Bitten Twice Shy, Lay It Down, Still of the Night, Cum On Feel the Noize, and many others!!!! A special thanks to the Bivens for having us at their annual huge blowout of a party. Great times.

Make plans to come to the Hi Brow on Friday November 6th. The last time the band played there they packed the house and things got pretty crazy. Let's DO IT AGAIN!! On November 7th, the Brigade makes their Crestline debut at the Bear House. It should be amazing time. We're already hearing from friends planning on going to this one. So c'mon out and get ready to PARTY!!!!
---
October 12, 2015

It was incredible to see so many fans and friends of the band make their way to Apple Valley last Saturday. Seeing such support for the 80s Brigade is SO AWESOME! Making the long drive to Frogee's was well worth it. Can't wait to do it again. The band sounded FANTASTIC and the crowd was AMAZING! A special thanks once again to Raoul Ranoa for stepping in for Tony. He is not just an amazing guitarist but a great guy to know as well. If you have an opportunity to see Raoul perform with Smoking Gun or another one of his projects go see him for yourself. You ROCK, Raoul!! Next up is a private Halloween event that should result in some crazy photos. We'll make sure to post some here as well as on FB. The Brigade has been working up a huge batch of new songs to add to the show and are ready to debut them at the next shows so check the schedule and come see what they've got cooking! Bring on the BRIGADE!!!
---
October 5, 2015

Last Saturday the Brigade and many other amazing bands shared the stage for a wonderful cause; raising money for animal shelters.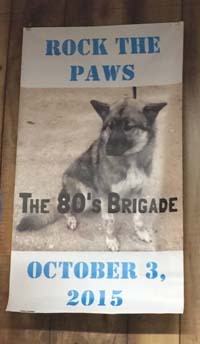 It was truly a fun time hanging with the other musicians that were donated their time as well. We also met many awesome folks who helped put the event together and witnessed their passion for this cause. Great stuff. This event also was unique in that our drummer Ray pulled double-duty by also playing an amazing set with IE favorites Smoking Gun. Next up is a trip this Saturday to the high desert for some craziness at Frogee's in Apple Valley. It will be INSANE!!! See you there!
---
September 14, 2015

The 80s Brigade finally made their way to HK's Bar & Grill in Rancho Cucamonga. It was worth the wait! Thanks to all who came to witness why this band is in such high demand lately. Many saw Tony's guitar brilliance for the first time and could not believe their eyes. He put on quite the display of skills. A special thanks to Jeff Bell from Driven for lending his voice for a song. So cool to have him there. Thanks again to all who support the Brigade.
---
September 8, 2015

Just amazing. Redlands Market Night last Thursday was even more insane than the previous show back in July! Such a great crowd! Then on Saturday the band hit the beach. No, not the one with sand and sharks but The Beach Sports Bar in Riverside. Great to see so many friends of the band come out to have some fun. A special thanks to Raoul Ranoa who sat in on lead guitar and was absolutely amazing as always. Next up is a double-header this Saturday. ARE YOU READY?!! First up is Laidlaw's Harley Davidson in Baldwin Park. This is an outdoor event so bring the whole fam and enjoy raffles, vendors and the 80s BRIGADE! Music starts at 12pm. Then later that night, come join the party at HK's in Rancho Cucamonga. It will definitely be a crazy night so don't miss this one. The guys will be rocking from 8:30pm to 12:30am.
---
August 24, 2015

The band made their return to The Shoppes in Chino Hills this past weekend and it was an amazing time from beginning to end. Thanks to all the great people we met and to all our family and friends who support us time and time again. A special thanks to the couple who hung out for the entire show and showed how 80s metal and line dancing CAN go together. Who knew? Ha! It has been amazing how fast the word continues to spread about how much fun this show really is. Wow. Just a reminder, come check out the band next Saturday in San Dimas, at Chaparral Lanes. Come one, come all and let's have a ball! Yeah!!!
---
August 12, 2015

The 80s Brigade would like to welcome our new sponsor; COLDCOCK Whiskey. This product is produced by people who believe in celebrating the rewards of hard work and that life is about taking your shot. So to all our fans who enjoy raising a glass of fine spirits now and then, come celebrate live rock music with the Brigade and some COLDCOCK whiskey.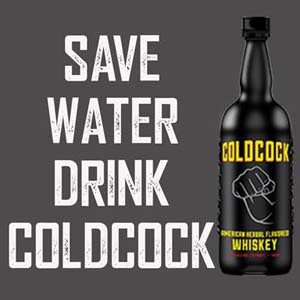 ---
August 10, 2015

The guys have been busy. Last Thursday we rocked the Sixty-6 lounge in RC and then Saturday trekked up to the high desert to show Victorville how it's done. We had the pleasure of seeing so many old friends as well as making many new ones. The response to Tony, our newest member of the band, has been overwhelming. We thank you for giving him such a warm reception. Victorville also provided the band to catch up with yet another former bandmate, Mr. Shawn Harris. Shawn is an incredible musician and a great guy.


Next Saturday the band will be at Stein Haus in Pomona. This is a fantastic place to hang out and get wild. Great food, great drinks, etc. The band will be giving away some free stuff to the loudest fans in the crowd so bring your party and get ready to rock!!! As always check the schedule for information on all upcoming dates.
---
July 10, 2015

If you've never checked out the activity going on during a Redlands Market Night, you owe it to yourself to head on over there soon. Lots of food, activites and great people. Last night the main stage got loud when the Brigade rolled into town. What a blast! Fans of all ages turned out for a great night of music, dancing, T-shirt giveaways and free stuff for the kids too. A special shout out to Serena for being our #1 fan (see pic)!


The band wishes to thank Heather and the city of Redlands for inviting the guys down to rock the place. For anyone who missed it, 80s Brigade will return there on September 3rd. For those who can't wait that long, you can come and party it up this Saturday at Stein Haus in Pomona. The show starts at 9pm and the party is planned to go on until 1am (That's all?. LOL). As always check the schedule for more information on upcoming dates.
---
June 8, 2015

The band made their debut at the Hi Brow last Friday night. Simply put...wow. To ALL OF YOU who came out and made it such a great night, the band thanks you VERY much! A special thanks to all of the singers in the crowd who make the walls shake.

We all had an amazing time and look forward to returning there soon. Coming up is a stop at Galli's in Rancho Cucamonga this Thursday night from 8pm to 11pm. Come hang out and support the Brigade if you can. Also, next Saturday the guys will rocking outside at the Shoppes in Chino Hills. It's a great chance to bring all of your family and friends to see one of the most fun bands in SoCal so make your plans and as always check our schedule for dates, times and directions.
---
May 11, 2015

WELL THAT WAS CRAZY!! Last Saturday night the guys blew the doors off the Kingpin Lounge at Del Rosa Lanes out in Highland. Actually they blew the circuit breaker on the power but that's another story (Ha!). A special thanks to all the maniacs that came out to support the band. Again it was great to meet some new friends and see some old ones again. We were even fortunate to catch up with former bandmate Joel Harris (see pic).


Next up is the Sportsman Bar in Corona. The band will giving a free shirt or two to the loudest fans so make plans to come and have a wild time! Speaking of shirts, CHECK OUT OUR NEW MERCH PAGE!!! Order your shirt now or buy them at the show but GET YOURS NOW!!

---
April 13, 2015

ANOTHER FUN BUT LONG WEEKEND! The Brigade traveled to Stein Haus in Pomona last Friday and met some crazy folks who LOVE their 80s music! The band kept playing until nearly closing time and people STILL WANTED MORE BRIGADE!!! "ONE MORE! ONE MORE!" Awesome time.

Then Saturday night the guys made their debut at Candy's in Highland. Plenty of old friends, new friends (Country Bear Jamboree Lady. Don't ask. LOL) and family showed up to watch the band tear it up on the outdoor stage. This place should be a fun place to return to in the summer. The schedule seems to be growing rapidly these days. Plenty of opportunities to come hang and get your party face on. Check our schedule often. Also email us what song or band you want to hear next time and you just might get it. DEMAND THE 80s BRIGADE for your next event!!!

---
March 30, 2015

Well, that was one FUN WEEKEND! After a great return to Septembers on Friday (where we celebrated many birthdays through the night. Another one?! LOL), the boys made their Brigade debut at the old Etiwanda Roadhouse (which is located in... you guessed it..., Etiwanda. Ha!). This place was as crazy as we remembered it to be. The guys made many new friends and spent some time with some old ones as well. Thanks to everyone who came out and showed their tremendous support.


The band will next be playing at Stein Haus in Pomona on April 10th and Candy's in Highland on April 11th. You definitely do not want to miss these shows so COME AND OUT!!!
---
March 23, 2015

If you weren't at the Buffalo Inn in Upland last Saturday night, you missed a great show!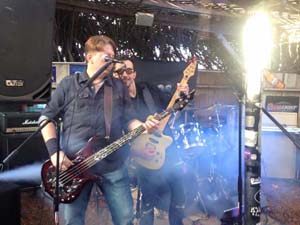 The band performed for a VERY enthusiastic crowd and had a great night. SEE PICS HERE! Thanks to all of you who came and showed their support. So many people were there that the amazing staff had their hands full for sure until the food ran out and drinks ran low. The Brigade cannot wait to return there and rock the house again. Next up is Septembers next Friday, followed by the Etiwanda Roadhouse on Saturday. Both of these shows should be amazing so make plans to be there.
---
March 2, 2015

THREE more shows have been added! First up is a return to Septembers Taproom in Rancho Cucamonga on March 27th. This is fun place to hang if you've never been there so make your plans now to come see the boys TURN UP TO 11!!


The following night the guys make their debut at the legendary Roadhouse in Etiwanda. John and Ray know this place well and are counting on you guys to make it a memorable night. The other new date added is at Stein Haus on April 10th in Pomona. This is the home of "Brau and Brats" and used to be known as Friar Tuck's. Let's all plan to be there and show how much fun a Brigade show can be! Be sure to always check back to this site for the updated show schedule.
---
February 23, 2015

We want to include a new section on the site where people can share their stories and/or comments after hanging out at an 80s Brigade show. You can send your comments to info@80sBrigade.com. Let everyone know how much fun you had and how awesome this band is. Bring on the Brigade!!!
---
February 20, 2015

Looking forward, the boys will cranking it up at Candy's in Highland on April 11th and the Kingpin Lounge (Del Rosa Lanes) in San Bernardino, on May 9th. Also we are proud to announce that the 80s Brigade will be playing at the Redlands Market Night this summer to provide entertainment for this great recurring event. Those shows will be fun for the whole family so make plans to be there as well. As always, check our schedule for the latest information on shows.
---
February 1, 2015

Wow, what a weekend! Last Friday night at Boondock's in Corona was incredible. Great place for having fun and getting crazy. The band can't wait to to return to Corona soon!



Then on Saturday the Brigade took to the outdoors and played a private event in Upland for our friend Brian's 50th surprise birthday party. Plenty of family and friends came together for an insane time. We've posted a few clips showing the guys giving everyone a great show.



First of all, a big thanks for everyone who came out to Rancho Cucamonga last Friday night and shared a great time with us at Septembers! A special thanks to the guy who kept lighting his lighter in support for not burning the place down. Good times!
Next up is RACKS in Corona on February 21st. We are expecting a great turnout so you definitely want to make plans to be there. Be sure to like our Facebook page and let us know what songs you want to hear.More shows to be announced very soon. Check back again and again.
---